Kadislitbangad Leads Test Receipt of BulletProof Material Provision To Protect TNI Soldiers
JAKARTA, tniad.mil.id – The Head of the Army Research and Development Office (Kadislitbangad) Brig. Gen. Terry Tresna Purnama., S.I.Kom., M.M., led the test of the receipt of Quick Release backpacks and Level III A Mich bulletproof Military Helmets to protect the safety of soldiers from sharp munitions used by the enemy, located in the firing alley of the Laboratory of the Army Inslitbang, Bandung, West Java, Monday (3/5/2021).
As Head of Activities (Kagiat), Kadislitbangad said that the test is a testing activity in the framework of the procurement process of material before the material is declared accepted as material assets of the TNI AD.
"What is tested is material supply soldiers for operations in the face of direct enemy fire, in principle the materiel is designed to withstand sharp munitions fire up to level III A," he said.
Kadislitbangad explained, high morale for soldiers in the task of operation when the equipment used is effective, good and sophisticated and functioning properly, the most important can protect the safety of soldiers, as well as Quick Release Backpack and military helmet supply Level III A Mich procurement Babek TNI TA 2021. The hope is to protect vital body parts of soldiers so that sharp bullets do not reach the body, especially the helmet that can protect the head of the soldier.
Similarly, the backpack added Kadislitbangad, designed bulletproof because in principle is a vest equipped with plate armor so it is expected to be able to withstand bullets, this backpack is also unique because under certain circumstances the backpack can be removed quickly from the vest.
On this occasion, Kadislitbangad emphasized the implementation of the quick release backpack and military helmet level III A provision test receipt still guided by the Specification of Standard Acceptance (CNS).

"Execute the provision test receipt of quick release backpack and military helmet level III A Mich well and prioritize the safety factors as well as the health protocol Covid-19 remains considered and applied," he said.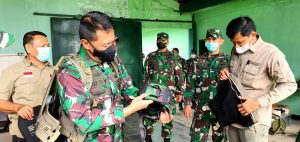 Similarly, Kadislaikad Brigadier General Yusep Sudrajat., S.IP., M.Si., said that the safety of soldiers is very important, therefore in this test, it is expected that the weapons used in this test are in accordance with the weaponry used by the enemy, to ensure that the Quick Realese Bag Backpack and IIIA Mich Military Helmet Supplies are able to protect and save soldiers from sharp bullets used by the enemy.
Meanwhile, the head of the team (Katim) examiner Lt. Col. Chb Sukamto presented that the test received a pack of Quick Release Backpack and Military Helmet Level III A Mich. includes non-destructive test consisting of visual test, weight and dimension test as well as construction and equipment tests. While destructive tests include capability tests, work smoothness tests and human aspects that are faced with the benchmarks of the Standard Of Acceptance Specification (CNS) that have been determined.
This activity was also attended by Kababek TNI, Kadislaikad, Paban II / Bekum Slog TNI, KabidbekupBabek TNI, Kabidpalkomlek Babek TNI, Paban III /R&D Asro Srenum TNI, Pabandya II / Bekum Slog TNI, Paban IV / Binsisops Sopsad, Paban V / Bek Slogad.Kasubditbinkaporsatiap Pusbengad, Kasubdislaikad, Sesdislitbangad, Kaliti, Pa Ahli Dislitbangad, Kalab, Kasubdismat Dislitbangad and representatives of PT. Ridho Agung Mitra Abadi. (Dispenad)